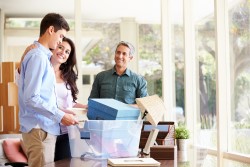 Important Things To Keep In Mind When Moving House
16Jun 2015
Whether you're planning on moving by yourself, or if you've got a lot of items to bring along with you and you need some extra assistance from a removal company, there are certain aspects of a move that you just cannot afford to neglect. Get these tasks taken care of, and you'll be much more likely to be able to enjoy a smooth and stress free transition into your new home.

1. Have a clear out.
There's no point packing and moving items that you're not going to use in your new house. So before you buy all your packing materials and supplies and begin wrapping your items in bubble wrap, go through your possessions and furniture items one by one and dispose of any items that you won't have use for or are planning to replace. If your items are still in relatively good condition, you could even make some money out of them. Sell them online, put an ad in the local paper or take them along to a local car boot sale, and then the money you get from their sale can go towards new item for your house.

2. Bulk buy your packing materials.
It's well worth spending a bit of money and buying your package materials and supplies in bulk. Most quality companies out there will also be able to provide you with packing supplies, and if you buy them in bulk, they're likely to be a lot cheaper. Get your hands on plenty of foam, bubble wrap, boxes and tape so that you can get packing quickly and efficiently.

3. Moving yourself? Get some help from friends and family.
Any type of relocation task is stressful, time consuming and requires a great deal of effort and willpower. Therefore it can't hurt to get some extra help. Lifting heavy items can be strenuous, and you don't want it to be backbreaking, so an extra pair of hands will always be beneficial. Call in some favours or ask your friends to sacrifice some of their time and give you a helping hand, but don't forget to buy them a drink when you're safely moved in to thank them for their efforts!

4. Call up a moving company.
If you're too busy with work and other commitments to even think about moving yourself, there are plenty of fantastic reputable removal companies out there so do your research and get some price quotes so that you can make an informed decision and book with the right company. If you've got any expensive or antique items of furniture, it could be worth booking a company that specialises in furniture removals. Book with a specialist company and you can be sure that your items will be in safe hands whilst being packaged up and in transit.

5. Ask the right questions before hiring a removal van.
Before you book a moving van, or when looking to hire a man and a van, make sure that you are completely clued up about the type of moving vehicle or removal service that's on offer. Be sure to enquire about the size of the vehicle, whether the company will provide any blankets, padding, materials and straps so that your items are secured during transportation. You don't want the vehicle to turn up on moving day, only to find that it's too small to hold all of your items, or that there're no protective straps to prevent your furniture clonking about when on the road. So no matter how pushy you may sound, ask plenty of questions before making a booking.