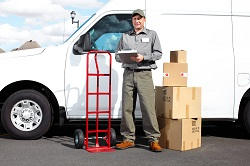 Some Suggestions For Smooth Removals In London
06Mar 2015
England's capital city has a rising population of around 8 million residents. Londoners are constantly on the lookout for better accommodation. Rental fees are increasing rapidly and property prices are beyond the budget of many individuals. The option to live in the suburbs and commute into the city to work each day makes financial sense for many people. If this is a choice that you wish to make, you should rigorously research all available varieties of movers.
1. London removals can come in the form of a man with a van or a dedicated removal company based in England's capital city. The former option can seem much cheaper at first glance, but a specialist moving company may offer many more useful services. Before deciding between these two different methods of relocation you should spend plenty of time in planning and preparation.
2. The size of the transportation vehicle you require will obviously depend on the size and quantity of the items you require to be transported. Measure your largest item to determine the necessary access to the van. Work out how many cubic meters of boxes and furniture you have in total. Check with the moving company that their vehicle can tackle this in one journey, or whether it will work out cheaper to make multiple trips in a smaller van.
3. Get yourself a clipboard and make notes. Jot down any questions as they come to mind, and discuss them all with any prospective movers. Make yourself a comprehensive moving checklist. Set yourself and the moving company strict deadlines by which each step of the relocation process should be completed.
4. Be ready in advance. As soon as you know that you will be moving, start stockpiling packing materials. You can use old newspapers, pillows, blankets and cushions to protect your breakable objects during transportation. Other things that can come in handy include a rechargeable screwdriver for taking apart large items of furniture, a tape measure, cling film, packing tape, bubble wrap and scissors. It is better to have too much packing material than too little. You do not want to be paying hourly fees for your porters and driver to be standing around whilst you hunt down more packaging on the day of the move.
5. Don't forget to make sure that your new property will be connected to essential services such as water, gas and electricity and that the meters at both premises will be read on your moving day. Other agencies that will need to know your new address include banks, insurers, the tax office and medical services. Remember you may need to register with a new doctor and to find new schools for your children. It is also worth looking into local vets for your pets.
6. Ensure that your chosen movers have current insurance to cover the replacement of any of your goods lost or damaged during the move. You might want to know if the driver has any convictions on his driving license or whether the chosen moving company carry out background checks on the staff that will be entering your properties.
Before choosing a removals firm that specializes in England's major city it is vital to compile an exhaustive list of each and every item that you need to transport from A to B. You should then assess the capabilities of a range of movers to provide the specialist knowledge and manpower to shift these items safely for you. Check that there will be enough porters and that your largest items will fit into the available vehicles.